Wedding & Event Rentals Port St. Lucie
Your BIG day is coming up! Wedding & Event rentals from Fort Pierce to Jupiter FL.
Bouncing All Around & Party Rentals has the tents, table and chair rentals you need to keep your guests comfortable no matter what type of party or event you are planning. We have tents for backyard parties, corporate events, weddings, graduations or just to get some shade on a sunny day.
Our chair rentals are the perfect way to give your guests a place to sit at events. If you are serving food, a place for your guests to put their plates while they are eating is a must to avoid spills. With Bouncing All Around, you don't have to worry as we offer table rentals for you as well.
Our heavy duty tents are tough enough to withstand all types of weather. They are designed for commercial use and include additional safety features you will not find from a tent purchased at a local retail store.
We take cleanliness seriously. We clean and disinfect all of our rental items between each rental so you can focus on enjoying your event and the company of the guests who attend.
Use our
online reservation system
to easily add items to your cart, specify event times/dates, There is even a text box where you can leave us specialized notes about your event. If you have questions, please give us a call at
(561) 260-3943
When it comes to planning a wedding, renting equipment can be a cost-effective and convenient option. Here are some key pieces of wedding equipment that you may want to consider renting:

1. Tables and chairs: Renting tables and chairs is a must for any wedding reception. Make sure to choose tables and chairs that fit the size and style of your wedding venue.

2. Linens: Tablecloths, napkins, and chair covers can add a touch of elegance to your wedding reception. Renting linens can also save you money compared to buying them outright.

3. Lighting: Lighting can set the mood for your wedding ceremony and reception. Consider renting uplighting, chandeliers, or string lights to create a romantic ambiance.

4. Dance floor: If you're planning on having a dance party at your wedding, renting a dance floor is a must. Choose a size that fits your guest list and make sure it's sturdy enough to handle all the dancing.

5. Audio equipment: Renting audio equipment like speakers and microphones can ensure that your guests can hear all the important moments of your wedding ceremony and reception.

6. Decorations: Renting decorations like centerpieces, arches, and backdrops can help you create a cohesive wedding theme without breaking the bank.

When choosing a wedding equipment rental company, make sure to read reviews and ask for recommendations from friends and family. Make sure to reserve your equipment early to ensure availability on your wedding day.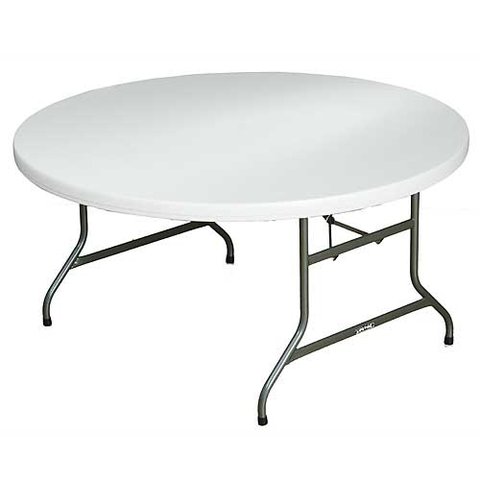 60" Round Tables
Our 60' Tables are a great place for putting gifts while the party is going on and people are socializing. Table rentals also make for a less stressful party for the host/hostess by providing your guests a place to gather comfortably. They can put their drinks and plates on the table and spend more time enjoying the event you took so long to put together.
Reserve Now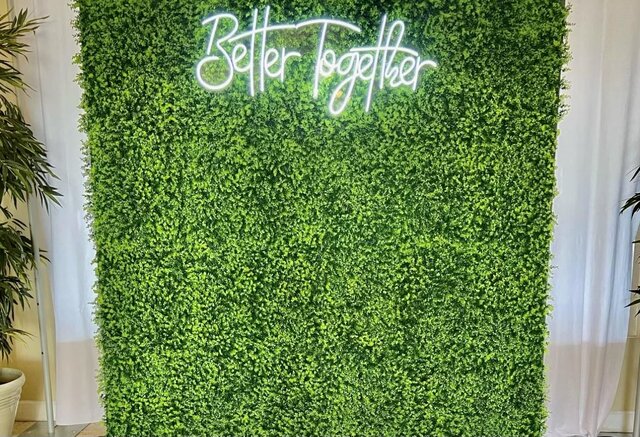 Green Hedge Backdrop
Looking for a stunning backdrop for your wedding ceremony or reception? Look no further than our wedding backdrop rental service! Our backdrops are designed to add a touch of elegance and sophistication to your special day, creating a beautiful backdrop for your vows, photos, and memories.

Our wedding backdrops come in a variety of styles and designs, from classic white draping to modern geometric shapes and floral patterns. We use only the highest quality materials and fabrics to ensure that your backdrop looks beautiful and stays in place throughout your event.

Some of our rental service includes delivery, setup, and takedown, so you can focus on enjoying your day without any added stress. Our team will work with you on your backdrop that perfectly matches your wedding theme and style, ensuring that your special day is one to remember.

So why wait? Contact us today to learn more about our wedding backdrop rental service and start planning the wedding of your dreams!
Reserve Now